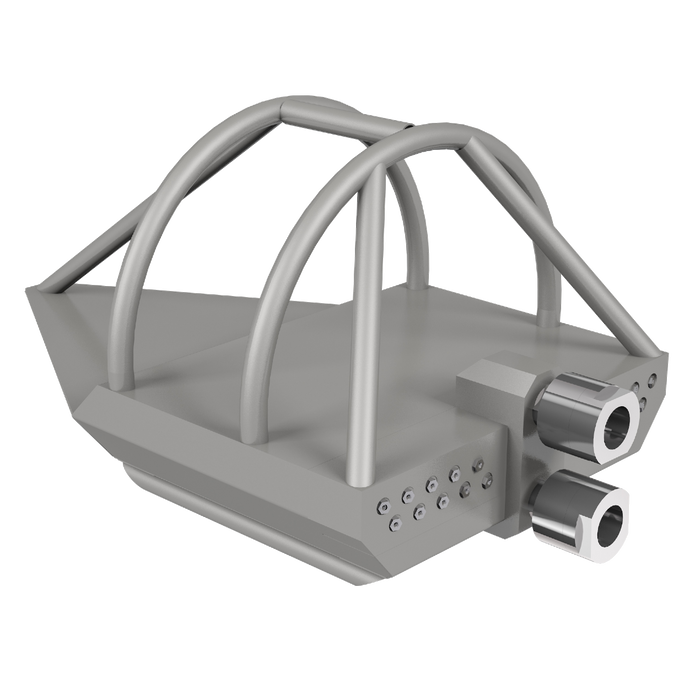 SUPER C-RAY®
Article number
2-11880-C07-1
Description
SUPER C-RAY® is designed for effective cleaning of larger pipes from 36″ up to 200″.
SUPER C-RAY® is designed to be used on both conventional truck and recycle trucks and the internal flow design minimizes the pressure losses inside the nozzle. The SUPER C-RAY® is equipped with replaceable wear runners that easily can be replaced, by the operator.
Characteristics:
• Made of quality stainless steel
• Equipped with replaceable ceramic jets for perfect setup for the flow and pressure of the Jetting unit(s)
• Low gravity center to maintain the correct position in pipe
• Interchangeable runners
• For all types of jetting trucks, including recycling
• If more water is needed, two jetting trucks can easily be connected to cleaning nozzle
• Supplied with one or two swivels.

Technical data
Length x diameter
1030 x 550 x 480mm
Max working pressure
200 bar / 2900 psi
Min water flow at 1450 psi
500 l/min (140 us gpm)
Pipe dimension
900 - 5000 mm (36" - 200")
Length x diameter
1030 x 550 x 480mm
Max working pressure
200 bar / 2900 psi
Min water flow at 1450 psi
500 l/min (140 us gpm)
Pipe dimension
900 - 5000 mm (36" - 200")