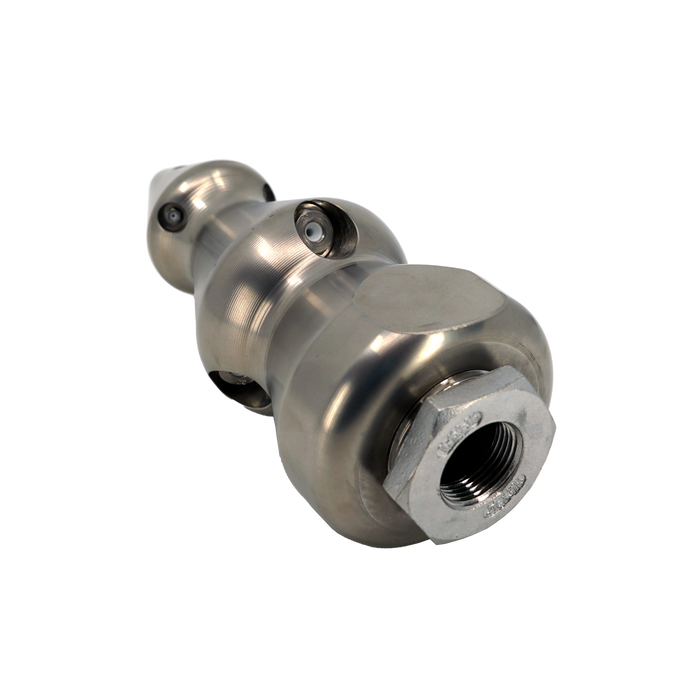 FIR® Pointed
Article number
2-11654-C05-JS
Description
FIR® POINTED sewer cleaning nozzle is designed for economical and efficient opening of clogged pipes. With its soft shape and with a possibility of up to (4) jets directed forward, the FIR® POINTED nozzle is a very efficient tool for ice-plugs, grease blockages and other obstacles in pipe. With thrusting jets in a two-level construction, the nozzle is effectively working its way through a jam. When the front of the FIR® POINTED has worked its way into the blockage the thrusting jets stepwise works its way through, removing and thrusting the material backwards.  It works basically the same way a step drill works. Due to the length and weight the FIR® POINTED stays steady in pipe and minimize the risk to turn in the pipe.
Technical specifications:
• Made of hardened stainless steel.
• Interchangeable jets in hardened stainless steel or stainless jets with ceramic inserts.  Recycle Friendly.
• Three (3) thrusting jets in lower level with 30° angle and three (3) jets in upper level with 35° angle.
• Four (4) front jets, that easily can be plugged.
• Suitable for re-cycling units.
• Made for hose connections 3/4″, 1″ or 1 1/4″.
Technical data
Connection
3/4″ with adapter
Front jets
3 x m6 (15°) + 1 x m6 (0°)
Length x diameter
7.6 x ø 3 inches
Max working pressure
3500 psi
Min water flow at 1450 psi
30 us gpm
Rear jets
3 x 1/8″ (30°) + 3 x m6 (35°)
Connection
1″ with adapter
Front jets
3 x m6 (15°) + 1 x m6 (0°)
Length x diameter
7.4 x ø 3 inches
Max working pressure
3500 psi
Min water flow at 1450 psi
30 us gpm
Rear jets
3 x 1/8″ (30°) + 3 x m6 (35°)
Front jets
3 x m6 (15°) + 1 x m6 (0°)
Length x diameter
7 x ø 3 inches
Max working pressure
3500 psi
Min water flow at 1450 psi
30 us gpm
Rear jets
3 x 1/8″ (30°) + 3 x m6 (35°)
Connection
3/4″ with adapter
Front jets
3 x m6 (15°) + 1 x m6 (0°)
Length x diameter
7.6 x ø 3 inches
Max working pressure
3500 psi
Min water flow at 1450 psi
30 us gpm
Rear jets
3 x 1/8″ (30°) + 3 x m6 (35°)
Connection
1" with adapter
Front jets
3 x m6 (15°) + 1 x m6 (0°)
Length x diameter
7.4 x ø 3 inches
Max working pressure
3500 psi
Min water flow at 1450 psi
30 us gpm
Rear jets
3 x 1/8″ (30°) + 3 x m6 (35°)
Front jets
3 x m6 (15°) + 1 x m6 (0°)
Length x diameter
7 x ø 3 inches
Max working pressure
3500 psi
Min water flow at 1450 psi
30 us gpm
Rear jets
3 x 1/8″ (30°) + 3 x m6 (35°)