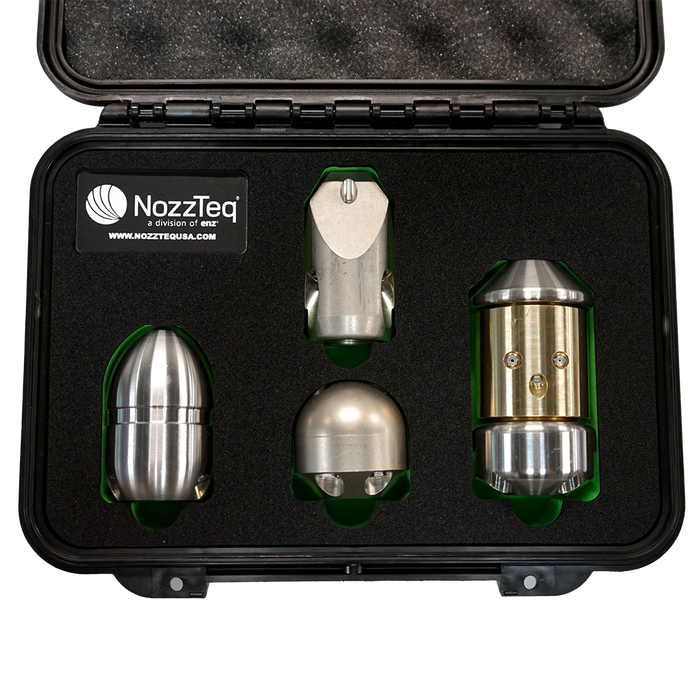 NozzTeq® 1/2" Nozzle Kit
Article number
2-NOZZLEKIT-1/2
Description
The nozzle kit consists of four nozzles and a hard storage case.
Each of the nozzles can be tailored to the specification of the jetting unit, based on the operating pressure, flow and hose size. The nozzles included in the kit are as follows:
NozzTeq® Chisel Nozzles a Tier 2 nozzle is the perfect all-purpose nozzle to break open clogs and remove general debris including grease and light roots. The front of the nozzle is supplied with sharpened edges that will, together with the four front jets, help cut through grease, ice and roots and handle blockages of many types. The multiple front jets penetrate the blockage while the rear jets provide thrust to push nozzle up the pipe.
This would be classified as a Tier 2 nozzle. MULTI-GLOBAL® sewer nozzle can be set up in multiple configurations. This sewer nozzle has a short design with a beveled edge to get in those hard-to-reach spots. Also, the design of the nozzle aids in preventing the nozzle from getting hung up on offset joints or breaks in the pipe. With replaceable ceramic 4 forward penetrating  jets and 6 rear thrusting. The nozzle can be configured in multiple variations.
The BL SPINNER™ series are developed for a flexible and effective removal of grease, smoother deposits, smaller roots etc. The nozzle is designed with 4 ceramic jets at 90° and 2 at 45°, along with 4 thrusting jets. This will allow for complete coverage of the pipe to removal of grease, debris, or roots. The nozzle does require any maintenance or lubrication.  The Spinner can be set up for the 45° jets to face forward or backwards, depending upon the customer needs.
The cleaning nozzle is equipped with a powerful rotating front jet, a type of high-pressure cleaner. The powerful and fast-rotating water cone effectively removes clogging and other obstacles in pipe. The nozzle is also suitable to push material in front of the nozzle in smaller lines. The cleaning nozzle is made of stainless steel with replaceable ceramic jet orifices. The rotor front jet is also exchangeable. Special tool available to facilitate easy assembly.