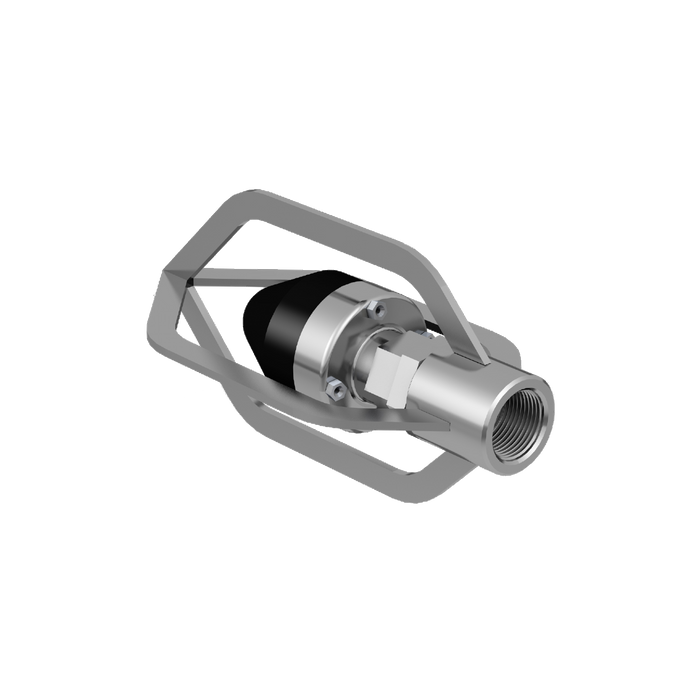 JAWS® 100
Article number
2-11360-C03-JS-01
Description
JAWS®100 is the smaller version of the JAWS® made with same quality and design as the larger version (quality Swedish stainless steel with a protective rubber cone). The service lifetime is the same as for the larger version, meaning you can easily get +10 years out of the nozzle head. Remember to check the wear of the sled. When sled starts to get worn down the sled should be replaced. The sled and the exchangeable jets are easy to replace.
The JAWS® 100 comes with a limited 7-year NozzTeq® warranty, which clearly states it must be operated in a NozzTeq® sled. Any warranty claims, the nozzle must be returned to NozzTeq® for evaluation.  Normal wear and tear are excluded from the warranty. The warranty is only for the nozzle, and does not include the sled or jets.
The JAWS®100 is recommended to be used with ½" or ¾" hose but can be operated on a 1" jetter unit. The effectiveness of the nozzle makes it also a preferred nozzle together with 3/8" hoses, when material such as sand, gravel and stones, need to be removed in pipe.
The JAWS®100 operates in pipe sizes from 4"-12" depending on the available water pump capacity.
The JAWS®100 has two different sled sizes –4"-6" and 6"-12". The nozzle is mounted between the sled runners for optimal cleaning and to minimize risk of getting stuck in pipe. The sleds are made in stainless steel and it is easy to remove and reinstall the nozzle with the special tool supplied for JAWS®100.
Do not hesitate to contact us or our distributors with any questions you might have. We are happy to guide and assist.
A few words from our costumers:
Technical data
Length x diameter
7 x 3.5 inches
Max working pressure
3500 psi
Min water flow at 1450 psi
8 us gpm
Length x diameter
7 x 3.5 inches
Max working pressure
3500 psi
Min water flow at 1450 psi
8 us gpm
Length x diameter
10 x 6 inches
Max working pressure
3500 psi
Min water flow at 1450 psi
8 us gpm
Length x diameter
10 x 6 inches
Max working pressure
3500 psi
Min water flow at 1450 psi
8 us gpm
Length x diameter
7 x 3.5 inches
Max working pressure
3500 psi
Min water flow at 1450 psi
8 us gpm
Length x diameter
7 x 3.5 inches
Max working pressure
3500 psi
Min water flow at 1450 psi
8 us gpm
Length x diameter
10 x 6 inches
Max working pressure
3500 psi
Min water flow at 1450 psi
8 us gpm
Length x diameter
10 x 6 inches
Max working pressure
3500 psi
Min water flow at 1450 psi
8 us gpm
Length x diameter
7 x 3.5 inches
Max working pressure
3500 psi
Min water flow at 1450 psi
8 us gpm
Length x diameter
7 x 3.5 inches
Max working pressure
3500 psi
Min water flow at 1450 psi
8 us gpm
Length x diameter
10 x 6 inches
Max working pressure
3500 psi
Min water flow at 1450 psi
8 us gpm
Length x diameter
10 x 6 inches
Max working pressure
3500 psi
Min water flow at 1450 psi
8 us gpm