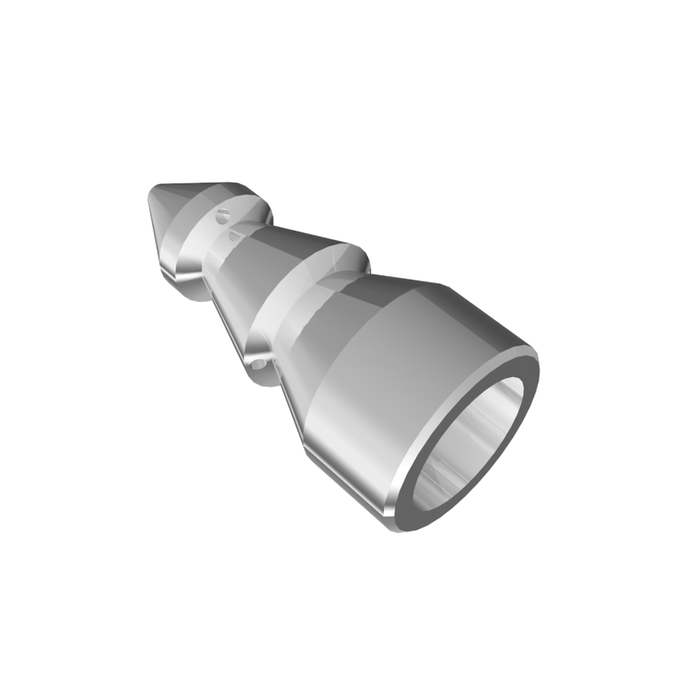 FIR™ SALE
Article number
SALE-2-11052-08-NPT
Description
FIR™ sewer nozzle is designed for penetrating clogged pipes, ice or remove sand, sludge etc. before root cutting.
The FIR's pointed shape and only one front jet, the FIR™ effectively works its way into the clog or ice, without losing the thrusting power. This is very similar to how a step drill works as it moves forward it opens the blockage.
Because of the shape of the nozzle, it is a good choice to use on blockages due to wet wipes, diapers, or FOG (Fats, Oil, Grease) in the pipe.
The FIR™ sewer nozzle adds much of its power to the propulsion which means that the FIR™ will travel further into the pipe than many other nozzles with three or four front jets.
FIR™ nozzles are made of quality stainless steel.
2-11052-XX   1/8" Fir® Nozzles   $90.35
2-11152-10   1/4" Fir® Nozzles   $94.90
2-11252-15    3/8"  Fir® Nozzles $113.10
Technical data
Length x diameter
1.1 x ø .0.5 inches
Max working pressure
5000 psi
Min water flow at 1450 psi
2 us gpm
Length x diameter
1.1 x ø .0.5 inches
Max working pressure
5000 psi
Min water flow at 1450 psi
5 us gpm
Length x diameter
1.37 x ø 0.6 inches
Max working pressure
5000 psi
Min water flow at 1450 psi
5 us gpm
Pipe dimension
1-1/4″ - 4″
Length x diameter
1.75 x ø 0.8 inches
Max working pressure
4350 psi
Min water flow at 1450 psi
10 us gpm