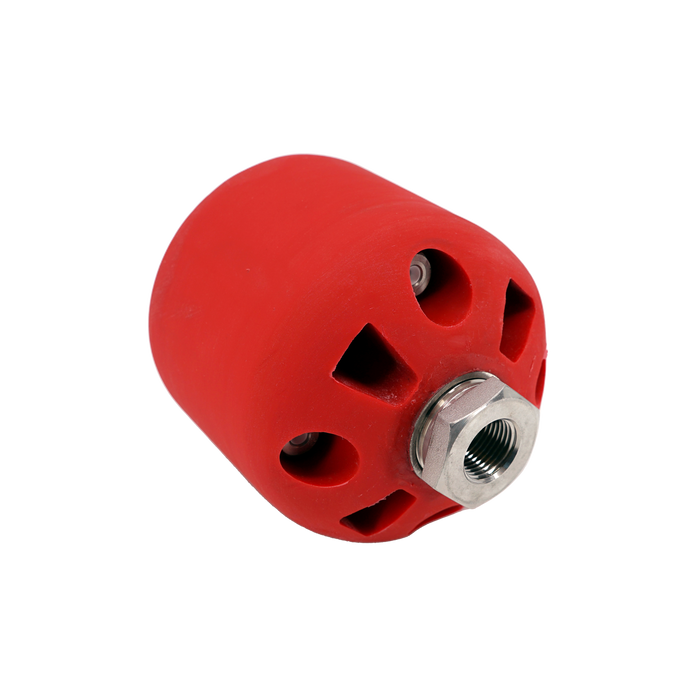 BL SWIPER® Red
Article number
2-11577-C04
Description
BL SWIPER® RED is recommended for pipe sizes from 6"-24", depending on the available pump capacity. The BL SWIPER® RED is designed to operate with recycling water or clean water.
The design of BL SWIPER®RED is specially developed to withstand the blasting effect from recycling water. The nozzle is always supplied with ceramic stainless-steel jets.
Due to the water conductive design together with the air channels the nozzle clean pipe extremely effective already at 30 bars (450 PSI) pressure at nozzle. This means lower rpm on jetting truck, less fuel consumption as well as less wear on high pressure pump, valves, hoses etc. Operating according to our instructions our customers have been able to cut fuel consumption with as low as 60%. That is a great saving and prevent you from putting money down the drain. Considering the cost for a high-volume recycling truck your investment in the BL SWIPER® cleaning nozzle will shortly turn into saved money, in wear and tear on the jetter pump and savings in hours spent on the jobsite, not to mention the saving of water and ecological impact on the environment.
The BL SWIPER® comes with a limited 5-year warranty from manufacture defects. Excluding normal wear and tear.  For all warranty claims the BL SWIPER® must be returned to NozzTeq® for evaluation.
Technical data
Length x diameter
6 x 4 inches
Max working pressure
3500 psi
Min water flow at 1450 psi
15 us gpm
Length x diameter
6 x 4 inches
Max working pressure
3500 psi
Min water flow at 1450 psi
15 us gpm
Length x diameter
6 x 4 inches
Max working pressure
3500 psi
Min water flow at 1450 psi
15 us gpm
Length x diameter
8 x 4 inches
Max working pressure
3500 psi
Min water flow at 1450 psi
15 us gpm