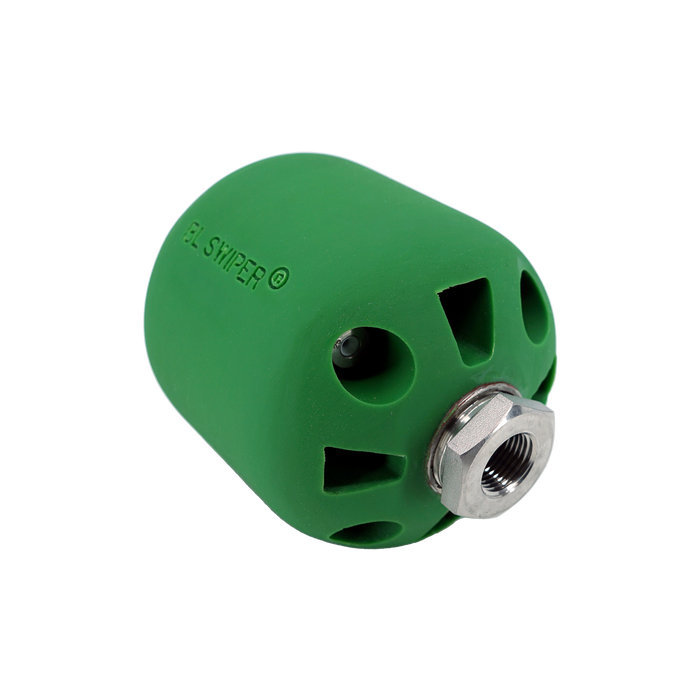 BL SWIPER® Green
Article number
2-11576-C04-JS
Description
BL SWIPER® GREEN is recommended for pipe sizes from 6"-24", depending on the available pump capacity. The BL SWIPER® GREEN is designed to work with clean water.
The unique patented water and air flow design of the BL SWIPER® series of pipe cleaning nozzles create the highest power at the lowest energy demand. This will decrease cleaning time, total water consumption and tear and wear on your jetting unit. Along with reducing the chances of blowing toilet due to the reduce operating pressure of the nozzle and the combination of water and air streams.
Normal operating pressure of BL SWIPER® at the nozzle is between 400 – 800 PSI.
The effectiveness of a cleaning nozzle can be measured through the travelling time it needs from downstream manhole to upstream manhole. With the same travelling speed, the water jets, when pulling back the nozzle, will move material faster and more effective to the downstream manhole. The inner design of the BL SWIPER® ensure long and well gather jets with incomparable cleaning and material moving power.
BL SWIPER® series of nozzles are extremely powerful. Always use extender pipe when possible, preventing nozzle from turning in pipe.
When BL SWIPER® nozzle is travelling up the pipe and getting close to the upstream manhole, slow down the feeding of the hose to prevent nozzle from jumping out of the manhole.
The BL SWIPER® comes with a limited 5-year warranty from manufacture defects. Excluding normal wear and tear, or the use with recycle water.  For all warranty claims the BL SWIPER® must be returned to NozzTeq® for evaluation.
Technical data
Connection
1/2" with adapter
Length x diameter
6 x 4 inches
Max working pressure
3500 psi
Min water flow at 1450 psi
13 us gpm
Connection
3/4" with adapter
Length x diameter
6 x 4 inches
Max working pressure
3500 psi
Min water flow at 1450 psi
13 us gpm
Length x diameter
6 x 4 inches
Max working pressure
3500 psi
Min water flow at 1450 psi
13 us gpm
Connection
1-1/4" with adapter
Length x diameter
8 x 4 inches
Max working pressure
3500 psi
Min water flow at 1450 psi
13 us gpm
Connection
1/2" with adapter
Length x diameter
6 x 4 inches
Max working pressure
3500 psi
Min water flow at 1450 psi
13 us gpm
Connection
3/4" with adapter
Length x diameter
6 x 4 inches
Max working pressure
3500 psi
Min water flow at 1450 psi
13 us gpm
Length x diameter
6 x 4 inches
Max working pressure
3500 psi
Min water flow at 1450 psi
13 us gpm
Connection
1-1/4" with adapter
Length x diameter
8 x 4 inches
Max working pressure
3500 psi
Min water flow at 1450 psi
13 us gpm